For the love of coffee – Gary Mehigan partners with Silvia Pro
EPICURE
It's a good time to be a coffee drinker. Never have the beans been so well-roasted and the baristas been so highly-skilled. For the coffee aficionados among us who prefer a morning brew in the comfort of their home, things are looking equally good. Not only has Rancilio launched one of its most impressive at-home coffee machines ever, but they also have one of Australia's most famous chefs behind it.
Former MasterChef judge, highly-regarded restaurateur and all-round coffee lover Gary Mehigan joined forces with Rancilio Group as the ambassador for Silvia PRO coffee machine.
Rancilio has long been regarded as an expert in the coffee machine industry, its Silvia coffee machine enjoying legend-like status. At-home baristas are celebrating the release of a new model, the Silvia Pro. So who better to showcase the incredible attributes of this machine than Gary Mehigan himself?
By all accounts it wasn't a hard decision for Gary to get behind Rancilio and the new Silvia Pro. A Rancilio Lucy coffee machine has been Gary's trusty companion for more than 17 years; proving the adage that when you're onto a good thing, stick to it.
Yes, Gary is well known for making or breaking the dreams of aspiring amateurs on MasterChef and his prominent restaurants Fenix and the Maribyrnong Boathouse. However within the industry he is also known well as a coffee connoisseur. Gary delighted fans and friends early in 2020 when he launched the Gary Mehigan Specialty Range with legendary Melbourne coffee roasters, Veneziano.
With Gary's latest move everyone at Rancilio is excited to see what he will do with the new star of the show, the Silvia Pro.
THE SILVIA PRO & SILVIA V6 IS HERE
At Epicure partnership is being leaders in the foodservice industry to combine our strengths and deliver a new level of product offering and expertise to a global customer base.
A strategic focus for the partnership has been developing the Rancilio portfolio of products, with the Silvia V6 leading the way.
The Silvia Pro sits at the forefront of exceptional coffee making with innovation and stability. Like all things that come from Epicure and Rancilio, it encapsulates excellence in design and functionality – it's a precision piece of equipment within the beauty of a simple, compact design.
There was obvious demand for the new equipment. Rancilio's original Silvia V6 coffee machine is still regarded as one of the most innovative and iconic pieces of equipment in the coffee industry and it is still the top-selling selling domestic espresso machine ever.
Follow foot print Silvia V6 – Delivering the same exceptional performance as its predecessor, the Silvia Pro also comes with a dual boiler, an important feature highlighted during research and development.
The addition of dual PID controllers, a digital display and these two independent boilers come together to deliver café-quality espresso from the comfort of home. Silvia semi-automatic dosing delivers the power to brew consistent shots of espresso every time. The dual boiler also gives users the ability to brew coffee and steam milk at the same time.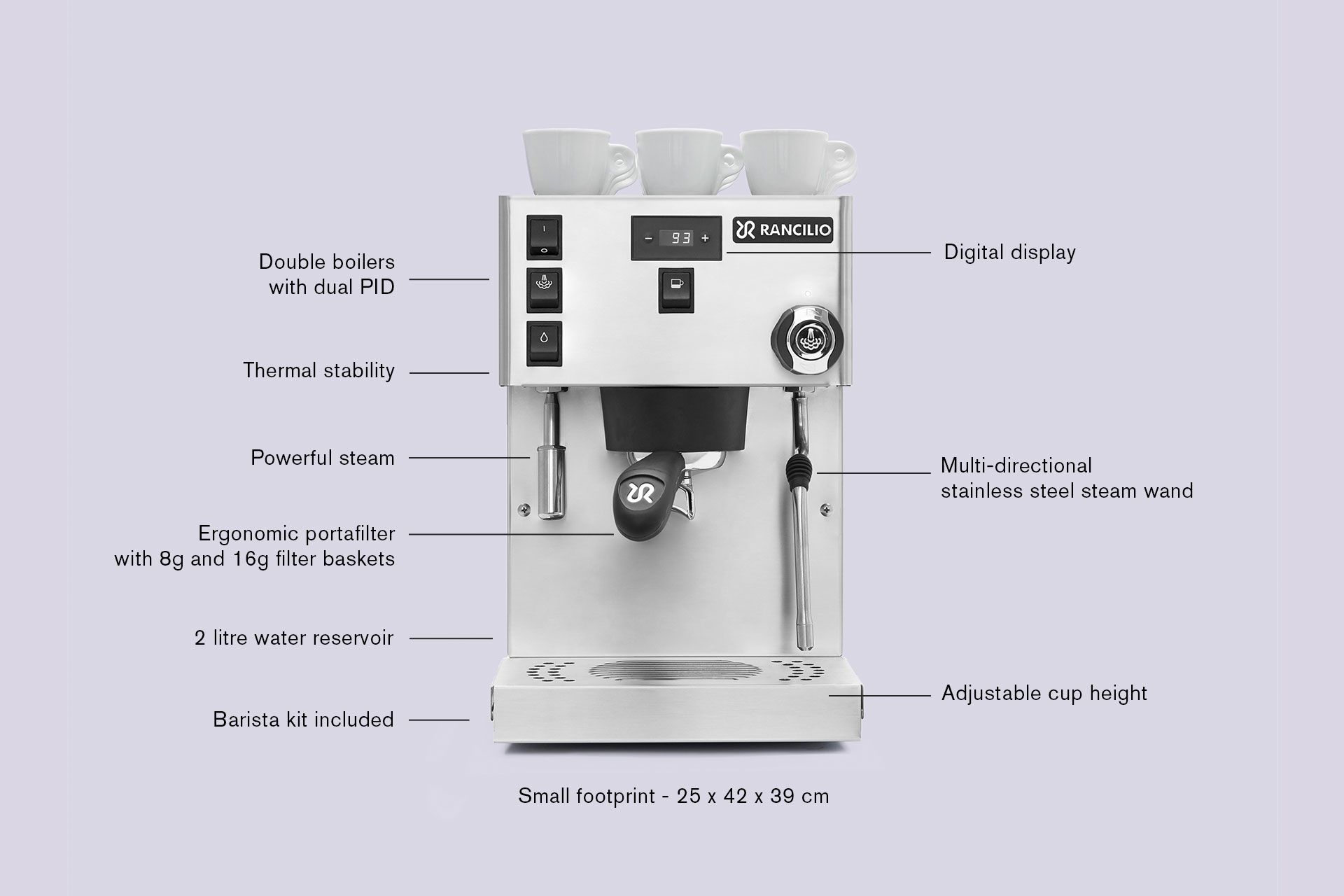 Technical specifications Silvia Pro & Silvia V6
Dimensions: W50 H390 D420
Color: Black & Stainless steel
Weight: 20 kg 
Interface: display
Brewing technology: Proportional-Integral-Derivative (PID)
Water tank: 2 Liters
Steam: Stainless steel
Power: 1100 W / 230V /50-60 Hz
Boierl: 2 Boiler (1.0 Lit & 0.3 Lit)
Energy saving insulated: Yes
Made in Italy
Dimensions: W50 H390 D420
Color: Black & Stainless steel
Weight: 20 kg 
Brewing: Temperature regulation
Water tank: 2 Liters
Steam: Stainless steel
Power: 1100 W / 230V /50-60 Hz
Boierl: Micro 0.3 Lit
Energy saving insulated: Yes
Made in Italy